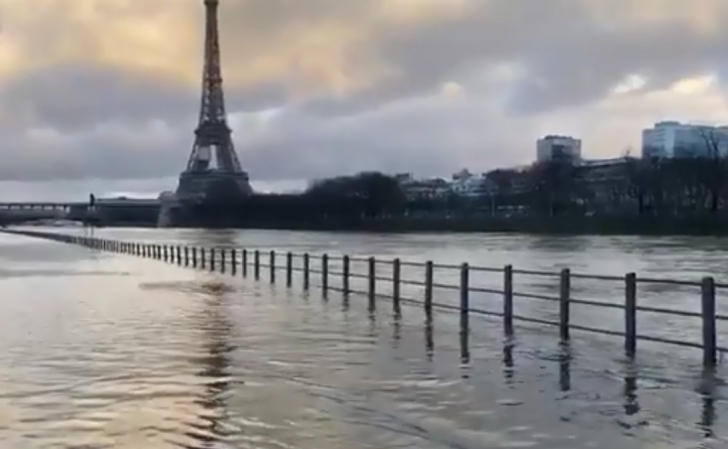 Activitatea în Paris este grav perturbată după ce Sena s-a revărsat şi apele au acoperit întreaga porţiune riverană a capitalei franceze. Autorităţile se tem de inundaţia secolului. Alte 23 de departamente din Franţa sunt sub cod portocaliu de inundaţii după ploile torenţiale din ultima vreme. În unele localităţi din centrul şi estul ţării, zeci de drumuri au fost blocate, iar oamenii s-au luptat ore în şir cu râurile ieşite din matcă. 
Sena s-a revărsat, la Paris, iar miercuri nivelul fluviului a trecut de cinci metri, iar estimările sunt că sâmbătă va ajunge la 6,2 metri. Autorităţile au activat planul de protecţie în caz de inundaţie, mai multe muzee, între care şi celebrul Luvru, au fost închise parţial. Mai multe staţii de tren au fost închise, iar pe una dintre magistralele de metrou din capitala Franţei au apărut infiltraţii care perturbează traficul.
La Seine à Paris sera placée en vigilance orange dès demain. Le niveau pourrait atteindre les 5,70 mètres mercredi et on pourrait se rapprocher des 6 mètres en fin de semaine ! Niveau semblable à la crue de juin 2016 ! @BFMTV @BFMParis #crue #seine #paris #inondation pic.twitter.com/cj3JOm4ywQ

— Marc Hay (@Marc_Hay75) 22 ianuarie 2018
Primăria i-a sfătuit pe parizieni să nu îşi ţină obiectele de valoare la subsolurile clădirilor.
How #Paris is #beautiful !and #nature #powerful ! The #river, the #wind, the #clouds and #eiffeltower !! #crues #inondation #seine #water #eiffeltower #life pic.twitter.com/QURz3uh9BH

— Cyril Reinhard (@CyrilCR) 23 ianuarie 2018
Inundaţiile din Franţa au fost provocate de nivelul extrem de ridicat de precipitaţii din ianuarie, care a inclus şi căderi mari de zăpadă, care a început acum să se topească. 
În 2016, când au avut loc inundaţii în Franţa şi nivelul Senei a depăşit şase metri la Paris, mai multe obiective culturale situate în apropierea Senei, între care şi Luvrul, au fost închise mai multe zile.